Creative Crafter of the month Award
Friends,
My friend and Co-blogger Kavitha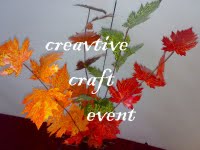 has conducted a contest for which everyone supported me and voted me for the same.

I'm extremely thankful to all of you to vote for me. And friends your support did really work out. I did win the contest and i'm awarded with the "Creative Crafter of the month".

Thanks to all of you and CONGRATS.. !!!!! to Anuradha she was one of my personal favourite.
Did you LIKE the post ???